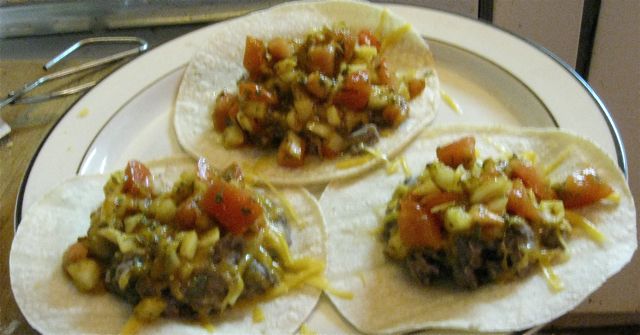 Hi folks! It's been a while since I've updated the site. I made these vegan tacos the other day and they were so good, I thought it was time to do so. Any Mexican food aficionado will tell you to ALWAYS USE FRESH INGREDIENTS when cooking Mexican. Seriously, do you know any Mexicans who buy El Paso (or Amy's for that matter) products? I don't. The last time I made Mexican food, I used a can of El Paso veg frijoles and they had that hospital tin-can taste. Bleh. Without further ado, here's the recipe I used for the above.
Frijoles (Refried Beans)
2 cups cooked pinto beans
1 small onion or half a medium onion, chopped medium
3 cloves garlic, finely chopped
3 tablespoons veg oil
1 jalapeño pepper, finely chopped (Use less if you don't like it very spicy)
1 small tomato or 1/2 a large tomato, chopped
1 tsp lemon or lime juice (optional, adds a little flavor and helps retain color)
Salt, extra spices
In large saucepan on medium heat, sauté onion for a few minutes until starting to turn translucent. Add garlic, jalapeño, and continue cooking for a few minutes, stirring. Add tomato, continue cooking until tomato has mostly liquified. Stir in beans and lemon/lime juice and reheat until mixture starts to bubble. Mash beans and mix with a potato masher or large slotted spoon to desired consistency. Add water a couple tablespoons at a time if needed to desired consistency and mixture is lightly bubbling. Add salt to taste and turn off heat.
Quick Salsa Fresca
1 large tomato, chopped
1 very small onion, finely chopped or 1/2 medium onion  (Use a chopped green onion or two instead if they're handy)
1/2 tsp vinegar (I used cider vinegar)
1 tsp lemon juice
1 tsp veg oil
Dash of salt
Spices and salt to taste (I used Jamaican curry powder (!) which gave it the yellow color above — and cayenne which is totally optional! You can use a bit of jalapeño, a little chipotlé, hot sauce etc, however you like it)
Stir ingredients together. Chill any unused portion.
Heat corn tortillas (or taco shells, crisp tostada bottoms) how you like (turning on griddle with a little oil or I usually just throw them directly on a low oven flame, turning every 5 seconds for 20 seconds — works great if they're fresh). Layer on dollop of beans, top with vegan cheese (or not if you eat dairy), and salsa fresca. If you have guacamolé handy, add that too!
Makes 6-8 nice-sized tacos/tostadas. Yum! Enjoy!
I'll be adding a pair of new Dr. Rotondi essays from the archives soon. In one, he talks about sex (predictably puritanical, sure) and the other, on milk, was published in The British Vegetarian (date not available but probably from the early 1970s).
Update: Dr. Rotondi's essay on milk in The British Vegetarian, was actually a Letter to the Editor published in 1964.