[Note: This was originally published March 2, 2011. I am able to republish verbatim thanks to reader Krys O who printed it out for me and Adobe Acrobat's OCR feature!]
So you've been invited to vegan potluck and have no idea what to do. Here are three cheap and easy ideas. I haven't posted in a while but I've still been cooking the way I usually do. (Qty's are appx. No recipe books consulted.) The first two were made in one big pot and the chili used two. I can't wait until I get a real job so I can do some real cooking. When it starts warming up, you can expect more easy sandwiches and salads besides these winter staples. I freeze and refrigerate my leftovers! 😀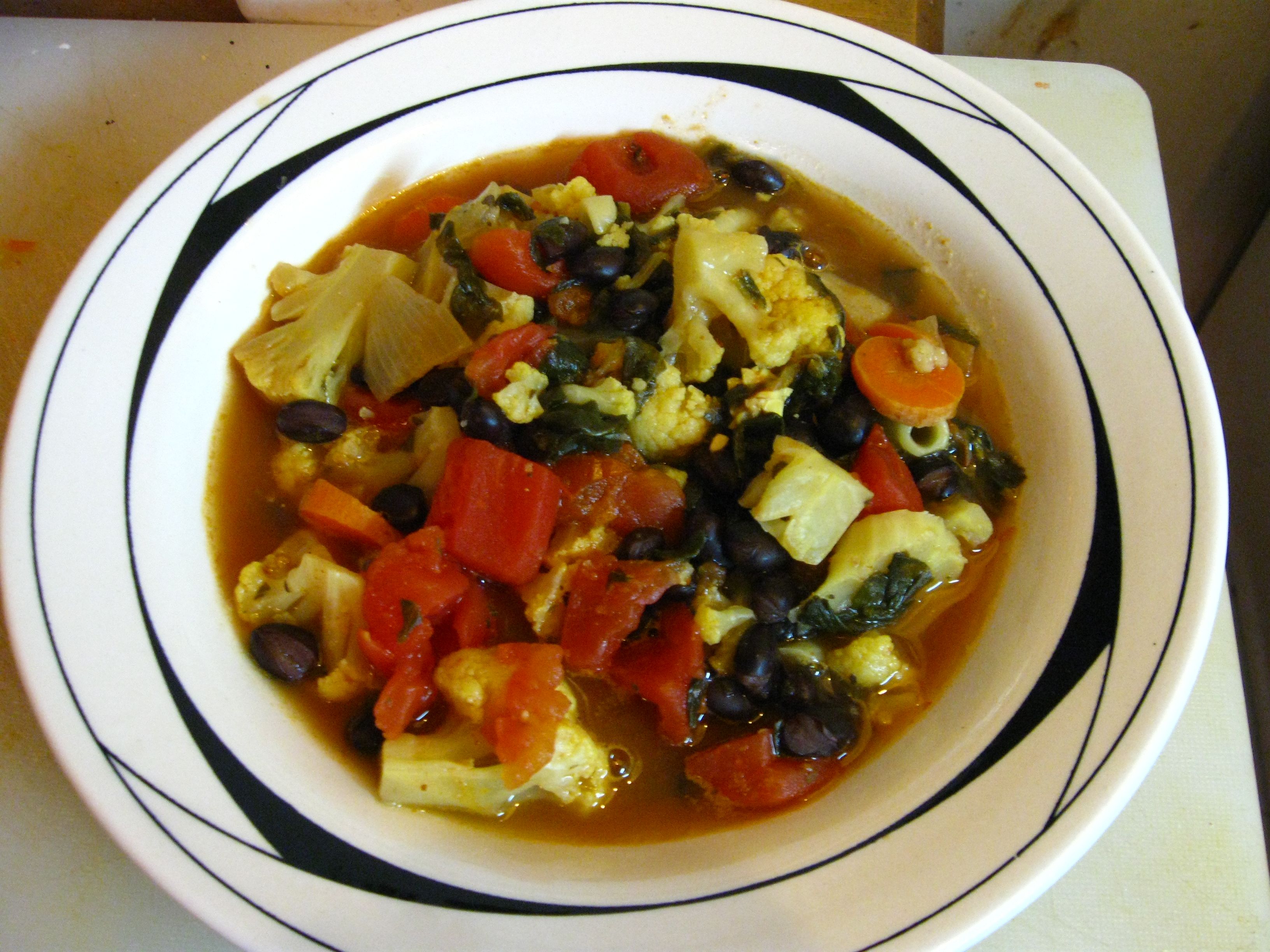 After the fold, the first recipe will be my cauliflower rasta stew, so called because in the right light, it sort of has the colors of the Jamaican and Ethiopian flags. It also reminded me of the reggae band I used to play with in college. We were called Mystyk and only played two gigs. I overcooked the spinach a bit here though so it lost the green color.
Cauliflower Rasta Stew
2 tbls olive or cooking oil
1 large onion chopped
5 garlic cloves minced
2 carrots sliced
2 tsp each oregano, basil, cilantro
red and/or black pepper to taste
1 medium head cauliflower, chopped. (1 chopped up the whole thing stem and all because why not?)
2 lbs tomatoes chopped/cubed
1 – 1.5 lbs spinach chopped
1.5 cups cooked black beans or 1 small can
Chop the cauliflower, onions, garlic. Saute the onions and garlic for a few minutes. Add the herbs and spices and saute a few more minutes. Add the cauliflower with some water and salt. Stir, cover, and cook on low heat while preparing the other veggies adding them as you finish chopping. I did the the carrots, then the tomatoes and beans. Make sure the cauliflower and carrots are mostly cooked before adding the spinach to retain the color. Serves 6-10 depending on serving sizes
Thai Green Chili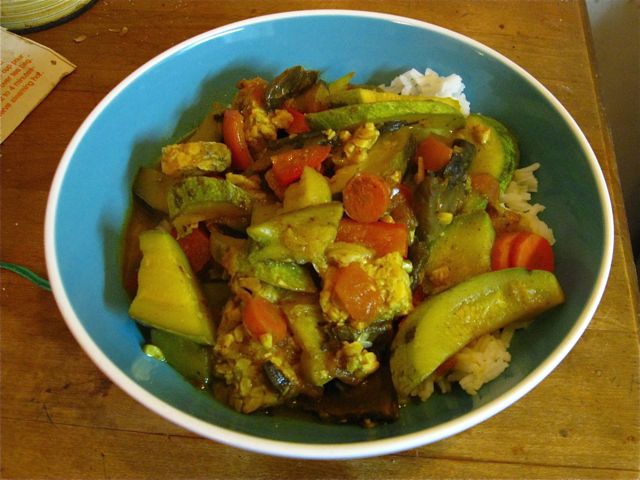 The easy trick with many thai curries is that they are mixed sautes with curry sauce and with or without coconut milk. Many prepared curry pastes have meat products in them so if it must be vegan, check the ingredients before you buy those. Green, red, and yellow thai curry pastes aren't very hard to make at home and you can look those up on the google along with many more complicated curry recipes.
1 large onion, chopped
1 red bell pepper, chopped
2 lbs zucchini, cut into large diagonal strips
2 carrots, sliced
1 bar tempeh (shown) or cube of tofu, sliced
2 heaping tsp curry paste
salt and more hot spices to taste
extra chopped basil (especially if it's not in the paste already)
1 can coconut milk (or broth/water if you don't want the coconut flavor)
In a large iron skillet or wok, saute the onion for a few mins, add the curry paste, some salt and little water and the other vegetables, tempeh, stir and cover. Cook on low/medium heat stirring occasionally. Add the coconut milk near when everything is all done cooking. Reheat everything and cook a few more minutes. Serve over rice. (1 dry cup cooked to 2 cups works with this qty.) Serves 6-12 depending on serving sizes
Hominy Sweet Potato Soy Chorizo Chili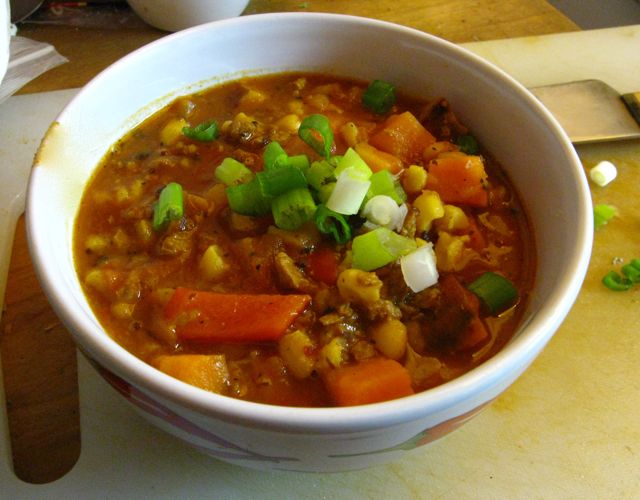 This recipe was a total accident. It is a pleasantly sweet and spicy vegan chili. I was in the Harlem Pathmark and I wanted to buy a bag of dry popcorn but I picked up a bag of Goya Hominy Corn instead. A few days later, I was in Trader Joe's and saw their Soy Chorizo selling for $1.89 so I got that just to see what it was like. (I usually don't go for veggie products made to taste or resemble meat and I wasn't that crazy about this stuff either but it made for a pretty good hearty vegan chili without beans.) Some days after that, my local produce market had big packs of slightly-damaged sweet potatoes and similar packs of damaged stewing tomatoes for a dollar. I used about half the potatoes and all the tomatoes for this recipe.
1 lb bag of dried golden hominy com (needs to. soak overnight and/or be cooked the same as beans)
1 large onion, chopped
4 garlic cloves, minced
3 canned chipotle chilis, minced
chili powder, cumin to taste (1-2 tsp each)
2 tbls cooking oil
1 package Trader Joe's soy chorizo, crumbled
2 carrots, sliced
2 lbs tomatoes chopped/cubed
1.25 lbs sweet potatoes, cubed
Soak the hominy 8 hours or more and start cooking it in a large stew pot according to instructions. You know the drill! In a large skillet or wok, saute the onion and garlic for a few minutes. Add a little water, salt, spices, carrots, bell pepper, crumbled soy chorizo. Stir and cover. Cook on low/medium heat for a few minutes. Add all this to the corn with a little more water as necessary. Reheat and cook a more minutes. Add the sweet potatoes with more water as necessary. Add salt and more spice to taste. Stir, cover and cook around 15 minutes on low-medium heat. Add the tomatoes, reheat and cook another 10-15 minutes on med heat. Can be served plain or over rice or noodles. Garnished here with fresh chopped scallions. Makes 8-12 servings depending on sizes.
If you see any mistakes or have any suggestions about how I'm writing and presenting these recipes, please feel free to comment.